There are some very important factors one must take into consideration before purchasing a weather station. These amazing devices come with a wide variety of features and capabilities, so you need to know the basics before spending your hard-earned money!
Weather Station Type
There are basically two types of weather stations: the wired kind and the wireless kind.
The wired weather station is the oldest type of weather station, in which the sensor is wired to the console. Through the wire, the sensor receives power from the console and, in turn, the sensor transmits weather information back to the console for analysis. Installation of a wired weather station requires a lot of time and hard work in order to be installed correctly. Once installation is complete, however, these units tend to be more accurate than their wireless counterparts.
The wireless weather station is the most modern type of weather station. Installation with these units is simple as no drilling or fixing of wires is required. In addition, wireless weather stations offers many other benefits, including mobility and expanded internet capabilities. On the downside, these units must be routinely checked for battery life and sometimes have transmission issues.
These days, solar weather stations are also a popular choice. The solar weather station doesn't require an external power source and typically has longer battery life than non-solar units. For cloudy conditions or night time, these weather stations run off of energy that has been stored in their batteries from other times when the sun was strong. Even if your weather station has solar panels, it will still need to be checked periodically for battery life.
Installation
Always look for a weather station that is easy to set up because there are many components and it can get messy. A weather station in which the components are already assembled and ready to be mounted with minimal wiring is ideal. As previously mentioned, a wireless weather station is the easies to setup, but there are also wired ones that aren't so bad either. If you're looking for a wired weather station, then you're probably not a novice anyways.
The Maximum Distance of Transmission
The distance of transmission is a very important feature of the weather station. Needless to say, this does not apply to wired units as their transmission distance is dependent solely on the length of their cables. Wireless weather stations, however, are affected by the physical surroundings and structures of the land, as well as the interference of radio frequencies. Many wireless weather stations have a transmission distance of either 300 or 1000 feet, but also come with wireless repeaters that enable the user to extend the range of transmission further than the maximum offered range. One should always go for the weather station that has the maximum range of transmission distance possible within his or her budget.
Types of Weather Conditions Reported
Almost all the weather stations report basic weather conditions like humidity, precipitation, barometric pressure, temperature, yearly and daily rainfall, wind direction, wind speed, and wind chill. There are some high-quality weather stations, however, that also report additional information, such as:
Solar and UV radiation: As new health concern arise about the harmful effects of the sun, this has become an increasingly popular feature.
Additional rainfall and wind speed reports, in which the rainfall or wind speed is not only reported yearly or daily, but many times throughout the day.
Apparent temperature report, in which heat index is reported, that is calculated by combining the effects of humidity and temperature. This tells users how the temperature feels.
Additional sensors can pick up things like soil temperature and moisture, leaf wetness, moisture evaporation and transpiration. Such features can be particularly helpful for avid gardeners or farmers that rely on that kind of information for optimizing crop yield. What's most important, however, is that you choose the which features are necessary for your specific needs.
Frequency of Updating
The frequency of updating is how often a weather station's sensor transmits data to its console. Generally speaking, the higher the frequency the better. Since weather conditions can change rather quickly, one needs to have realtime information that is captured as these changes occur. Many good quality weather stations update the most dynamic weather conditions like the wind speed and direction in every 2 to 3 seconds and other conditions every 10 to 15 seconds. Less advanced models update the weather conditions over longer intervals, like 30 seconds or even several minutes. The downside to this is that there will be a delay in the information that your console displays and you may not be in the know if weather conditions change rapidly and a storm is about to hit.
Highs and Lows Measurement
Most weather stations only display the current readings, but some high quality weather stations measure and record the highs and lows as well as the averages and totals over the period of days, weeks, months or even years. The reports are normally displayed numerically, but on the most advanced weather stations, the such information can also be displayed graphically. Even if the console does not have graphical capabilities, one can usually export the weather data for further analysis in Excel. A weather station that records the highs and lows is always a better choice than one that does not.
Elevation
The elevation is a factor that cannot be overlooked. Although the weather station can be used for both high and low-level elevations, one must consider transmission distance. Where will the console be place in relationship to the sensor? Will it be on a mountain top, like at a ski resort? For this, you're going to need maximum transmission distance. It is no use in buying a weather station that would not work at the required elevation. Don't try to save money by sacrificing transmission distance here; you'll need to make a substantial investment or else you won't get accurate results. Moreover, you may need to use some wireless repeaters to extend transmission distance if the altitude is extreme.
Forecast Generation
Many weather stations generate forecasts that are derived from only the falling and rising of barometric pressure, which does not always yield accurate results. This may be fine for basic forecasting, but there are many weather stations can offer more. Sophisticated units generate forecasts depending on multiple data points, like humidity, wind speed, rainfall, barometric pressure, latitude, and longitude. The forecasts generated by these weather stations, though not perfect, offer professional grade accuracy. If you're an experienced weather enthusiast, acquiring a unit like this will put you at the cutting edge of meteorological technology.
Forecast Display
Normally, the forecast is depicted on the weather station's digital screen through the use of icons. There are many devices that feature numerous icons and keys for showing different reports when pressed. Weather stations that have ample key options tend to be easier to navigate.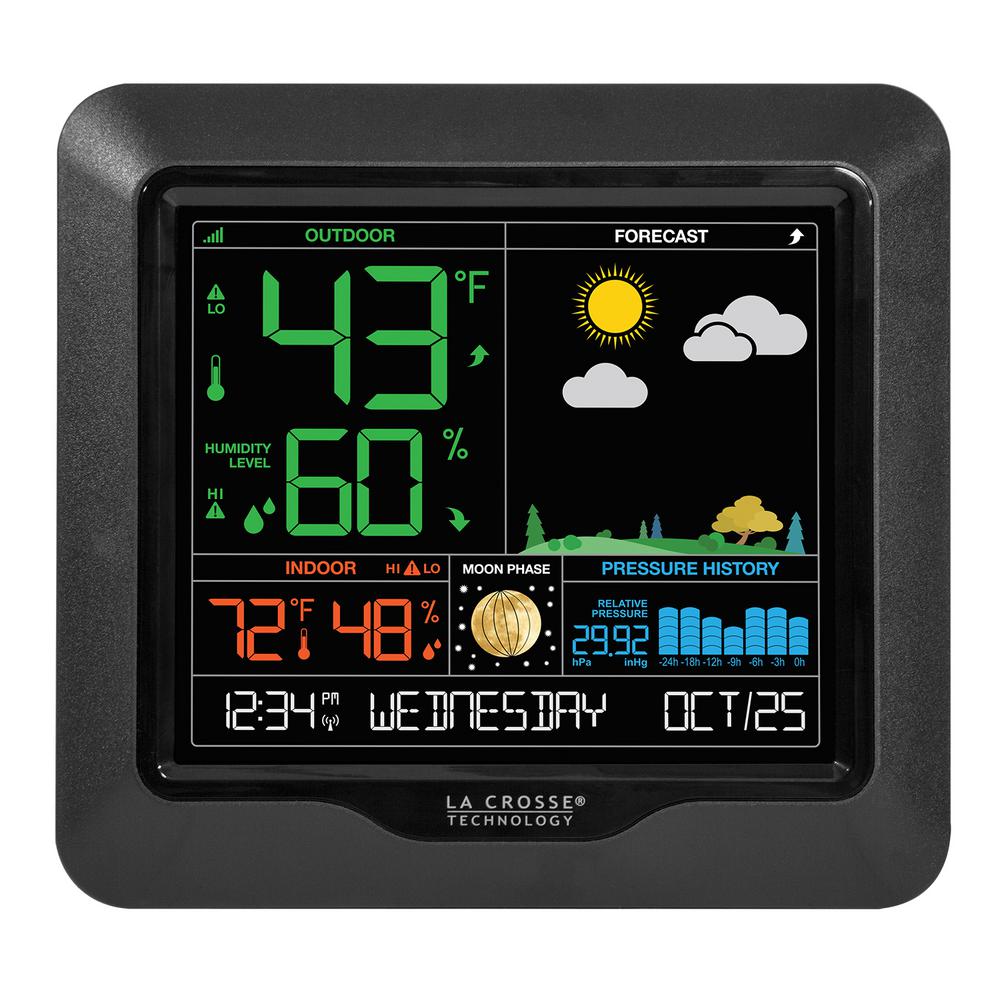 Alarms
Alarms are also an important part of the weather station. They indicate changes in weather conditions and can be customized by the user to fit his or her needs. You will find lots of weather stations that offer single, dual and multiple alarms. Some high-quality weather stations, however, offer different alarms for different weather conditions, which you can set for each variable. If you are not always checking the display, then it is better to get a weather station with multiple alarm options.
Resolution, Accuracy, and Range
The display resolution is another factor to consider. Higher resolution correlates with ease of use. If the screen resolution is too low, then it will be difficult for the user to decipher what is being displayed on the screen. Accuracy and range, furthermore, are important for obvious reasons. It is interesting to note, however, that some advanced weather stations, like the Davis Instruments models, don't often have vivid displays like the La Crosse Technologies and Ambient Weather types. That's because Davis Instruments uses more mechanical buttons for navigating their advanced features. Furthermore, some weather stations even come with software that can be installed on a personal computer for convenient report generation and viewing.
Data and Graphs
Most weather stations are limited to the graphing and analysis of only barometric pressure over a 24 hour period. There are other weather stations, however, that allow data graphing and analysis for nearly any weather variable – also including average highs and lows – not only for the past 24 hours, but also for days, months or even years. Some packages include software while others do not, so the user might need to purchase the software separately in those instances. Graphing adds a new dimension to weather analysis and helps the users visualize complex datasets with ease. So, a weather station that offers the extensive graphing capabilities would be a superior choice for the diehard weather enthusiast who likes to visualize and compare data.
Computer Interface
There are a number of different ways that a weather station can interface with a computer. Often times, weather stations will connect to a computer over WiFi, especially the wireless types. Then, there are some models that connect via a hardwire, such as a USB cable. In these instances, the console itself will serve as the computer interface while the PC retrieves information from it and processes that information with either a proprietary weather station software or a general data analysis software, like Excel or Apple Numbers. The data logger (a.k.a. the computer software) may be able to automatically store the data or it can be stored manually. One can also upload data to specific websites that are dedicated to sharing weather information as well as to social media websites. There is a large community of weather enthusiasts out there that love networking and sharing information!
Cost
Like any device, a weather station may come at a variety of costs. It is important to keep in mind one's budget while identifying what features are needed. A low-cost weather station would obviously not have many features, but may suffice if only basic information is needed. In the higher price tiers, one may find that the extensive features may not be necessary. Therefore, it's best to assess what exactly your purpose is before deciding what features are necessary. From there, you can determine which models might fit your needs and get a better idea of how much you'll need to spend in order to achieve satisfactory results.
Features of a Good Weather Station
Radiation shielded thermometer to block UV and solar interference
Wide range humidity sensor
Anemometer that is able to handle strong winds and is not susceptible to icing
Clear barometric readings
Large rain gauge with a funnel heater (for advanced rain gauging only)
Preassembled components for easy installation
Maximum transmission distance (usually 1000 feet tops) with the option to use repeaters
Ability to reports numerous types of weather conditions
Frequent updating of data from the sensor to the console
Highs and lows recording and measurement capabilities
Advanced forecast generation through measuring more than just barometric pressure
Logically designed keypad for the smooth operation of advanced tasks
Multiple alarms with automatic setting
Adequate screen resolution and accurate reporting
Plenty of graphing options for multiple variables
Auto logger option and computer interfacing capability
Conclusion
Choosing the right weather station can be a tough task as there are a lot of factors to consider. For more help, definitely check out some of the reviews on our website to help you discover the pros and cons of the particular models that interest you. It's also a good idea to read up on the various weather station brands, as it can give you a better understanding of what each brand's strengths are as well as the accessories they offer to compliment their weather stations. Don't forget to check the warrantee information as well. Weather stations are expensive, so doing plenty of research before choosing one will be time well-spent. This website should provide you with everything you need to eventually zero in on the best model for your intended purpose. After your purchase, you will also find valuable information here to help you with the rest of your weather station journey. Good luck and see you around!