People ask me why I started this blog. Simply put, I'm a writer and weather tech enthusiast, so I've combined my two passions to create this site. I want to help you on your search to find the right weather station for your home; but sometimes, the best weather station for person A might not be so great for person B and vice versa. Either way, having a home weather station can help you stay safe and plan your days effectively. That is why want to help you choose one!
Why Own a Home Weather Station
Installing a weather station gives you first-hand information about your local temperature, humidity, rainfall, barometric pressure, wind speed, wind direction and more. Furthermore, you can stay on top of important weather-related changes by setting automatic alerts. However, perhaps the most valuable part about owning a home weather station is that you can use it to predict the forecast without having to rely on delayed information from the news.
Choosing the Best Weather Station
Unfortunately, choosing a weather station can be challenging because there are so many different products available out there. All the different features can get pretty overwhelming, especially for first time buyers, who often give up because they get confused. If you're in that category, don't worry – you are in good hands. I will simplify the process of selecting the home weather station that best suits your individual needs.
In addition to the following guide on weather stations for home use, this blog also contains numerous reviews on a variety of weather station models as well as information about the weather in general, so feel to click around. I'll walk you through the process to make sure you're not wasting your precious time sifting through scattered reviews and low quality information.
Alright, let's jump right in!
Best Weather Station of 2020
Best Weather Station for Professionals
This device is quite possibly the best professional weather station out there. Jam packed with customizable features that provide unparalleled performance, the Davis Vantage Pro2 is widely considered to be the most capable and reliable professional weather station available today. Its rugged sensor suit  measures all the basic weather variables as well as shows solar radiation, UV levels, dew point and rainfall and updates every 2.5 seconds. As for transmission distance, this model has a massive range of up to 1,000 feet. Being at the forefront of weather monitoring technology, this home weather station is geared for weather buffs who know their stuff and require maximum accuracy and performance.
*NOTE* This mounting hardware must be purchased separately for this model.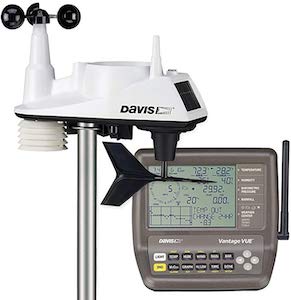 Best Weather Station for Weekend Warriors
The Davis 6250 Vantage Vue is the Vantage Pro2's little sibling. Equipped with a range of premium features, this high quality unit it built for weather enthusiasts that require superior dependability, accuracy and capability. With 1,000 feet of transmission distance, the 6250 Vantage Vue has a range of over 3 times more than your average weather station. It also updates every 2.5 seconds and provides all the essential measurements, including temperature, barometric pressure, wind speed/direction, rainfall data and dew point. Moreover, it can be synced with Davis Instrument's state of the art data sharing & storing software, WeatherLink, which is one of the best in the industry. The 6250 Vantage Vue would be a fine choice for a weather enthusiast looking for an entry-level pro device on a flexible budget.
*NOTE* This mounting hardware must be purchased separately for this model.
Best Weather Station for Beginners
Perhaps the most popular model by Ambient Weather, the WS 2902A has just right amount of features for anyone looking to take up weather monitoring as a hobby. Ambient Weather is a trusted name in the industry that has been around for many years. With this home weather station, you can monitor temperature, pressure, humidity, rainfall, wind direction/speed, heat index and dew point, all from a distance of about 300 feet. In addition, it provides you with graphing capabilities and a number of other features that will keep you busy for a long time! Due to the WS 2902A's above average features and relatively modest price, it also makes a good everyday weather monitoring solution.
Best Weather Station on a Budget
Here, we have the signature home weather station by La Crosse Technology, a company that is known for producing decent and affordable devices. Although this weather station will probably not satisfy the more serious weather buffs out there, it certainly can do a lot without breaking the bank. You'll be able to monitor temperature, pressure, humidity, dew point and wind speed/direction. It also has a few extras, like heat stress index, altitude, compass and pressure trend information. It would make a great addition to your home if you would like to stay informed about local weather conditions without requiring professional grade accuracy and advanced features. This is the weather station for everyday planning and casual weather monitoring. Plus, it has a sleek design and sharp graphical forecasting icons, another quality that La Crosse Technology is known for.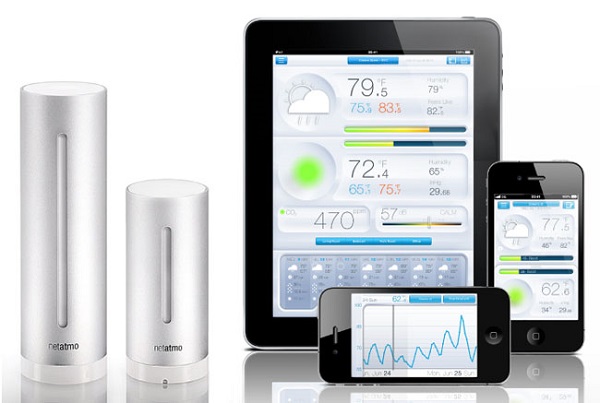 Best Weather Station for Home use
If you want a family-friendly weather station that is designed to fully integrate with your mobile devices, there is no better option than the Netatmo Weather Station. This weather device consists of aluminum-encased indoor and outdoor modules that connect to your mobile device directly with Netatmo's proprietary app, so no additional console is needed for monitoring. The indoor module measures temperature, humidity and comfort level. It also has a built-in CO2 sensor that alerts you went ventilation is needed, which is a safety feature that no other home weather station has.
This smart weather station would make a great addition for a baby room because of this safety feature. As for the outdoor module, it provides real-time data about temperature, pressure and humidity; less than other weather stations, but enough for basic household use. Through the app, users can also enjoy historical data and graphs. Although this weather station does not offer the same level of functionality as some other models, its unique design provides the perfect combination of simplicity, practicality and classiness for users who require basic information about indoor and outdoor conditions.
Best Weather Station for portability
If you're searching for a reliable, accurate and portable weather station, the best solution is the Kestrel 5500. This unit packs a lot of punch for its size. It will provide you with information about temperature (air, snow, water) barometric pressure, humidity, wind chill/speed/direction, dew point wherever you are. It also includes a custom communication software that allows you to configure the frequency of transmission, download data, and transfer data to other devices. Last, it has a bluetooth feature that allows it to connect to your mobile device wirelessly up to 30 feet. This is a pocket-size system with a lot of capabilities – great for all sorts of outdoor activities and sports. It's not the only handheld weather station on the market, but it is the highest quality one without a doubt.
Things to Keep in Mind When Buying a Home Weather Station
As weather stations come in many shapes and sizes, there is a lot of information to consider. It can be a daunting task to pick the right one for your home. If already know the basics and you just want to dive right in, however, then check out the Ultimate Buying Guide. Otherwise, keep reading and we will build a foundation from which you can more clearly understand which device may be right for you.
PURPOSE
A home weather station is meant to serve you around the clock like a watchdog. Although it won't do much when it comes to scaring away intruders, it will report to you when the weather is about to change. Some might use a home weather station to keep up with local climatic conditions as a hobby. Other people use weather stations to stay informed when they're traveling or camping. Then, there are the professionals and enthusiasts who use this devices to study the climate. As a result, new and different models are continuously emerging in order to satisfy everyone's needs. Thus, in order to find the best weather station, you need to ask yourself what purpose you want your weather station to serve.
The first criteria we need to examine is portability. Will you be traveling with your weather station or using it at home only?
Home weather station: These weather stations are usually pretty bulky. They come with a console and an integrated sensor system, which detects different atmospheric variables. They then send that data to the indoor console where you can monitor everything. While most devices nowadays are wireless, there are also some wired models out there. The number of sensors a weather station has will determine how much information it can provide you with. Some offer three sensors, and some have 5. It depends on how advanced you want to get.
Portable weather station: This type of weather station is small and easy to use. The components are usually assembled into a single unit, which makes it convenient for campers and outdoor sports lovers.
TYPE OF DATA
Nearly all weather stations present the primary weather variables, which are temperature, humidity, barometric pressure and wind speed. As we get into the higher end models, however, you will find data beyond the basics, such as UV radiation, rainfall, soil condition, leaf wetness and much more. These added features can be particularly helpful for farmers.
CONNECTION TYPE AND DISTANCE
You can have either a wireless or a wired connection when choosing your device:
Wired: The weather sensors for these systems are powered by wires that connect to the console. They are usually mounted, and thus take a fair bit of time to install. On the plus side, they offer more stability than their wireless counterparts.
Wireless: Though easy to install, wireless weather stations can be unreliable sometimes. The weather sensors connect to the console through wireless transmission, which can be prone to signal interruptions. As technology advances, however, signal loss is becoming less common. The obvious benefits to wireless weather stations are convenience and mobility.
One of the essential aspects of a wireless weather station is transmission distance. So, having a sufficient transmission distance is your primary consideration when selecting a weather station. Obstructions, such as walls and trees, will affect reception. Choose a weather station with at least a 300 foot transmission range. The greater the transmission distance, the more leeway you will have.
POWER SOURCE
Another factor to consider is what type of energy source your home weather station (or portable weather station) will run on. With AC power, you can run most wired weather stations without concern. There are also home weather stations that operate on AA batteries and/or solar panels, which are preferred in areas with unreliable electricity. The highest quality weather stations have multiple power sources. If you have the money, however, it's better to get a weather station that uses multiple power sources – that way you'll be prepared for any situation that mother nature throws your way!
COST AND WARRANTY
The cost of a home weather station can vary widely, from less than hundred dollars to a few thousand. The higher the price tag, the more features you'll be getting (usually). If you're on a budget, though, you can still get a weather station model with all the essential features. There are plenty of easy-on-your-wallet models that suit basic, everyday needs.
Most of the top brands, furthermore, offer a product warranty period to ensure peace of mind (you can read more about the warranty here). Depending on quality and price, you should get a one year to 5 year warranty. Don't forget to check if they have replacement parts available too, in case you need one in the future.
OTHER FACTORS
Here are some other things to consider when picking your weather station:
Update Frequency: The more frequently the unit refreshes data (sends data from the outside sensor to the indoor console), the better it will keep you up to date. So, choose a weather station that updates at least every 30 seconds. You can get units that update data every 2 to 16 seconds too, but that might not be necessary if you're just looking for basic functionality.
Accuracy: Accuracy and precision are determined by the quality of the sensors.
Range of Data: A wide variety of data gives you better insight into upcoming weather conditions.
Honorable Mentions
There are just too many great weather stations out there. Here are some solid choices if our Best Picks don't fit exactly what you're looking for.
Ambient Weather WS-1002 Wifi
Top-Rated Wifi Weather Station
According to my research, the Ambient WS-1002 all-around great weather station model. It can connect to IFTTT to control and automate all sorts of things in your home, including thermostats, sprinklers and more. Furthermore, the console connects to internet through WIFI, which makes it super convenient to share weather data and even control your weather station remotely. It can also use the WIFI signal to transmit data within your home without needing to connect to the internet. The outdoor sensor provides data on humidity, temperature, wind speed and direction, rainfall, solar and UV radiation while the indoor sensor includes humidity, temperature, and barometric pressure data. Last but not least, the console provides dew point and rainfall rates along with graphs that show detailed trends for moisture, temperature, and barometric pressure – all of which you can access through Wunderground.com.
AcuRite 00589 Pro Color
Top-Rated 3 in 1 Weather Station
This device combines a 3-in-1 integrated sensor suit and a patented self-calibrating technology. It provides personal climate prediction for 12 to 24 hours. Furthermore, the 3-in-1 suit is super easy to install and consists of a: 1) thermometer 2) anemometer 3) hygrometer. As for the indoor sensors, they are set in the illuminated color console which you can mount on any wall or set on any table. From the console, you can read various weather data including temperature, humidity, wind chill, wind speed, barometric pressure, dew point, high and low and many other forecasts variables. For a unit that includes the 3 most important instruments for measuring weather, the AcuRite 00589 Pro Color is going to be your best overall option.
La Crosse S88907
Top-Rated Personal Weather Station
This LaCrosse weather station has all the essential features in a compact, simple, user-friendly package. It's also the runner up for  our budget weather station. This unit provides real-time data from your yard and transmits up to 300 feet. It includes a sensor suit with a thermometer and hygrometer to provide you with the most essential information for planning your day. It also has the nice color icons that La Crosse Technology is known for. I find this device especially well-suited for single, urban professionals that need quick and easy access to the most pertinent information daily. It makes a great personal weather station.
AcuRite 01036M Pro Color
This weather station can be connected through the My AcuRite app, enabling you to create personalized alerts and view data right from your wireless device. This makes it easy to stay updated and plan your day with confidence. Being that it's an AcuRite, furthermore, means that the 01036M is a highly dependable. Some notable features are the self-calibrating technology, the 5-in-1 integrated sensor system, the illuminated color LCD console, and the solar panels located on the sensor. You can also connect the console to the PC to store, share and analyze data. If you're looking for a weather station that can be highly personalized and provide information to your mobile devices, the AcuRite 01036M may be the best choice for you.
Ambient WS-1200-IP
The Ambient Weather WS-1200-IP offers reliable sensors that measure temperature, humidity, wind direction, wind speed, rainfall, UV and solar radiation. The console gives you updates every 14 seconds and connects to the internet though any wireless router. Users can then upload real-time data to Wunderground.com and other sites, giving you access to weather mapping, data and graph analysis, historical data, archiving, and much more. The best part is that you can monitor real-time weather conditions and conduct analysis from anywhere in the world or right in the comfort of your home. If you're looking for great internet features, this model would make the cut.
Additional Information
SIZE AND WEIGHT
Choose your weather station's size according to space you have for it. When it comes to portability, the weight of the device is a major factor. Will you be hiking long distances with it? If you have to carry the device around in your hand or pocket, it's best to go for something lightweight. The Kestral 5500 (link above) is the ultimate portable device, but anything from Kestral would be a sound chose, really.
INSTALLATION AND USE
Carefully installing all the parts of your home weather station is vital for getting the most accurate results. It  can be a daunting task, however. To make it easy, pick a home weather station that is preassembled and easy to install. Usually, the wireless ones are the easiest. Furthermore, if you plan to use your weather station regularly, select one with a user-friendly interface to prevent strain and fatigue.
ADVANCED FUNCTIONS
If you want lots of features, then high-end weather stations will be your best place to look. Think Davis Instruments (link above).
Here are some of the advanced functions that might interest you:
Internet connection: A user can upload and stream data on different weather sites for correlation and review.
Multi-display: This is a handy function that allows you use 1 sensor with multiple displays. Some really high-end weather stations may even have more than two consoles.
Weather Forecast: Ironically, forecasting the weather is not a common feature on weather stations because you are expected to interpret the data yourself.  Many high-end weather station do have weather forecasting, though. There is also one lower-end model with this feature, which is the La Crosse Technology S88907.
Alarm: Weather stations that have alarm systems are invaluable in disaster-prone areas.
ADDITIONAL ACCESSORIES AND PARTS
Many companies selling home weather stations offer discounts when you buy accessories. Here are some of the add-ons you'll typically see:
Mounting kit for installing the sensor system.
Anemometer to determine wind direction.
Weather camera for taking pictures of outdoor conditions.
Rain gauge to ascertain additional data on rainfall.
Another indoor module if you are purchasing a Netatmo weather station.
Best Sellers
Below is a list of some additional weather stations that are frequently purchased.
Features
Model

Connection/Range: Wireless/300ft
Temp [indoor & outdoor]
Relative Humidity [indoor & outdoor]
Wind Speed
Wind chill
Heat index
User friendly tablet display
UV & solar radiation
Ambient network share features
Graphs and text exporting
IFTTT connection

Connection/Range: Wireless/300ft
Temp [indoor & outdoor]
Relative Humidity [indoor & outdoor]
Wind Speed & Direction
Pressure, Rainfall
UV Sensor
Forecast, Alarm

Connection/Range: Wireless/300ft
Temp [indoor & outdoor]
Relative Humidity [indoor & outdoor]
Barometric pressure
Dynamic forecasting icons
Customizable alerts
Color LCD

Connection/Range: Wireless/330ft
Temp [indoor & outdoor]
Relative Humidity [indoor & outdoor]
Wind Speed & Direction, Chill
Pressure, Rainfall
Record temperature high and low
Self-calibrating forecasting
Color LCD
Integrated calendar and clock
Customizable alerts

Wittime 2078 – Sadly no longer available

Transmission distance of 328 feet
Barometric pressure
 Temperature (current + 24 hour high and low)
Dew point, mold, humidity, heat index, trends and more
Colorful graphical icons
Conclusion
I hope you found my guide on home weather stations useful. Remember, a weather station can be one of the most important devices in your life. I can't count the number of times that my family and I have remained safe by staying one step ahead of the weather! We love to be outdoors and own both portable and home weather stations to help us determine the most ideal times to get out or stay in.
There is so much information out there. I like to stay updated about the latest home weather station (and portable weather station) models as new devices come out every year and will continue to post new information about weather stations and all related subjects to help you folks on your decision-making journeys!
Thanks for reading and stay tuned!