An automobile is an asset to be treasured. That's why a lot of folks will go all the way to make sure they are fully protected from damage. Sometimes, due to different circumstances, parking your car in a garage might not be possible. In such situations, you are forced to look for other means to cover your car to protect it against inclement weather. When hail falls, whether light or heavy, it is bound to cause some damage to your vehicle's body surface. To protect your precious asset from being damaged, you need a hail car cover.
With hail car covers, your car will be protected whenever and wherever. Even though there are devices you can use to predict when a hail storm may be approaching, you still need to be prepared for the worst. The only question now is which are the best hail protecting covers you can find on the market?
Guide to Choosing the Right Hail Car Cover
Realizing the disparity of the different hail car cover models should be a priority before you get your car one. This is the only way possible for you to find one that will fit your car perfectly. As we should always dress our bodies properly for our local weather conditions, so should we dress our cars! Here are some things you should take into consideration when acquiring a hail car cover.
Car and Hail Cover Size
The size of a car will differ from model to model. Hence, it is imperative to ensure that you know the size of your car when looking for a hail cover. For the hail car covers, you will find some which are elastic and can fit most cars. You will also some that are designed specifically to fit a certain type of car. Take note of this when buying a hail cover.
Materials Used to Make the Cover
The material used to make the hail cover will determine its durability, longevity and its impact absorption level.
Integrity of the Hail Car Cover
Make sure that the hail cover comes from a reputable manufacturer and it's proven to have worked before. If you buy a hail cover with a low impact absorption level, it might not properly offer the needed protection in case of a hail storm.
Durability of the Hail Cover
The durability of the hail cover is another important factor to consider. You need to deliberate on the cover's rate of disintegration, peeling and fading. Ask some important questions like what level of a hail storm can it withstand? With such information, you will be able to pick a best-fit hail cover for your car.
The 8 Best Hail Car Covers
1. Kayme 6 Layers Car Cover
The Kayme 6 layers car cover tops the list of the best hail car covers. It's a universal sedan fit and all weatherproof. Thus, it not only protects your car from getting damaged from hail, but can be used in other weather conditions too. It is made using a multilayer PE and PEVA material, which makes it thicker and more durable than other covers. In addition, a zip has been fit at the left side door for easy access.
With this hail car cover, you will find front and rear straps to keep the cover attached to your car in high winds. Its professional design ensures your car's visibility at night with reflective straps. Side mirror pockets are also incorporated in this hail car cover. The cover measure 193 inches in length, which make is it suitable for most sedans.
This cover is elastic at the back and front and to store it when not in use, you get a large, perfectly fit bag. This makes it compact, enabling you to conveniently store it in your trunk.
Pros
Reflective strips for night visibility

All-weather design

Zipper for easy access

6 layers for added protection
Cons
Only for small cars

Price on the high side
2. OxGord Executive Car Cover
OxGord Executive car cover has been designed for all weather conditions. The cover fits most sedans and station wagons that are at least 200 inches long. It is made out of 3 layers of spun-bond polypropylene, 1 layer of micro-porous film and 1 layer of soft fleece. These 5 layers of material make the cover thick enough to resist high impact hail.
Its breathability is superior hence you don't have to worry about your car being damp. The interior of the cover is made using soft cotton material to protect your car from getting unnecessary scratches. The front and the rear part of the car cover are elastic and to keep it properly strapped on your car and there are tie-down strings to keep it tight. With this hail car cover, you also get a bag for better storage.
Pros
Soft cotton interior

Breathability

6 layers for added thickness

Elastic front and rear
Cons
No reflective stripes for nighttime visibility
3. HAIL PROTECTOR Portable Car Cover
If you are looking for a hail car cover that will protect a wide range of cars regardless of the size then, the Hail Protector is the right cover for you. Like the name suggest, it has been developed to specifically keep your car, truck or SUV safe in case you experience a hail storm. This hail car cover will protect your car against any size hail due to its automatic air inflation feature. It's also the only hail cover that is equipped with a sensor that can forecast a hail storm and provide you with weather alerts through your mobile device with its app. All this is done remotely to save you effort and time.
You get 6 sizes to choose from and the breathability of this hail car cover has been highly enhanced. The material used to make this cover makes it strong and durable. When it comes to installation, it can take you as little as 10 minutes.
Pros
Protects cars, SUVs, and trucks

It comes with a hail forecast system

Has an automatic air inflation system

Relatively easy to install
Cons
4. Big Size Car Cover Hail Protector
For SUVs, you need a hail cover that will perfectly fit without leaving parts exposed. The Big Size car cover hail protector has been developed to `keep your SUV or truck safe in case of any type of hail. It is 600 cm long and can fit most SUVs. Its inner material has a thickness of 3mm and on top of that, you get 3 tiles that are laminated to offer better protection for your vehicle. All this makes this hail car cover impact resistant and able to withstand heavy hail.
The interior has been properly treated to ensure bacteria formation when the hail cover comes in contact with water. It is portable and just by folding it you can store it in the trunk of your SUV. To keep the cover firmly secured on your car during high winds, straps are provided, which you can tie to the car.
Pros
Easy to fit on top of car

Rugged outer shell

Thick padding to withstand heavy impact
Cons
Bulky

Does not cover the sides completely
5. GUNHYI Outdoor Car Cover
This car cover is universal and all-weathered, meaning it can endure more than just hail. It has 6 layers of materials that make it heavy-duty so it can absorb heavy impact without structural stress. It measures 190 inches long, which is an suitable length for most SUVs. The interior is made using soft cotton which protects your car against abrasions. To save you the hassle of trying to tell the back and the front, a black cloth has been fitted at the front part to make identifying easy.
To secure from heavy wind, four straps have been fitted at the back and front. There are also reflective stripes for better visibility at night. The Gunhyi car cover is scratch-resistant, which increases the cover's life cycle. With its 6 layers of thickness, this cover will keep your car safe under all sorts of weather conditions.
Pros
The thickness makes it heavy duty

Visible at nighttime

Easy to identify back and front

High durable
Cons
It only comes in one color: silver
6.CARBABA Car Cover
Hail car covers are developed to keep your car safe. But most manufacturers are trying to facilitate better design to offer the customer more. If you need to access your car, you don't have to remove the cover completely with the Carbaba car cover. You will find a zipper at the driver's side for convenience and easy access. This hail car cover has been tested to endure all weather and other hazardous elements that might come in contact with your car.
For durability, 6 layers of materials have been used and this does not only prolong its life but also increases its capability to better protect your car. Its interior is made of cotton to protect your car's paint keeping it looking brand new for longer. To keep the car cover secured to your car, you will find straps at the bottom of the cover that can be fastened to the buckles. It measures 191ft and for better storage, you are offered a portable bag.
Pros
Fasteners for securing the car cover

All-weather design

A zipper door for easy access

The cover is durable
Cons
Best fits small cars only
7. iCarCover Outdoor Car Cover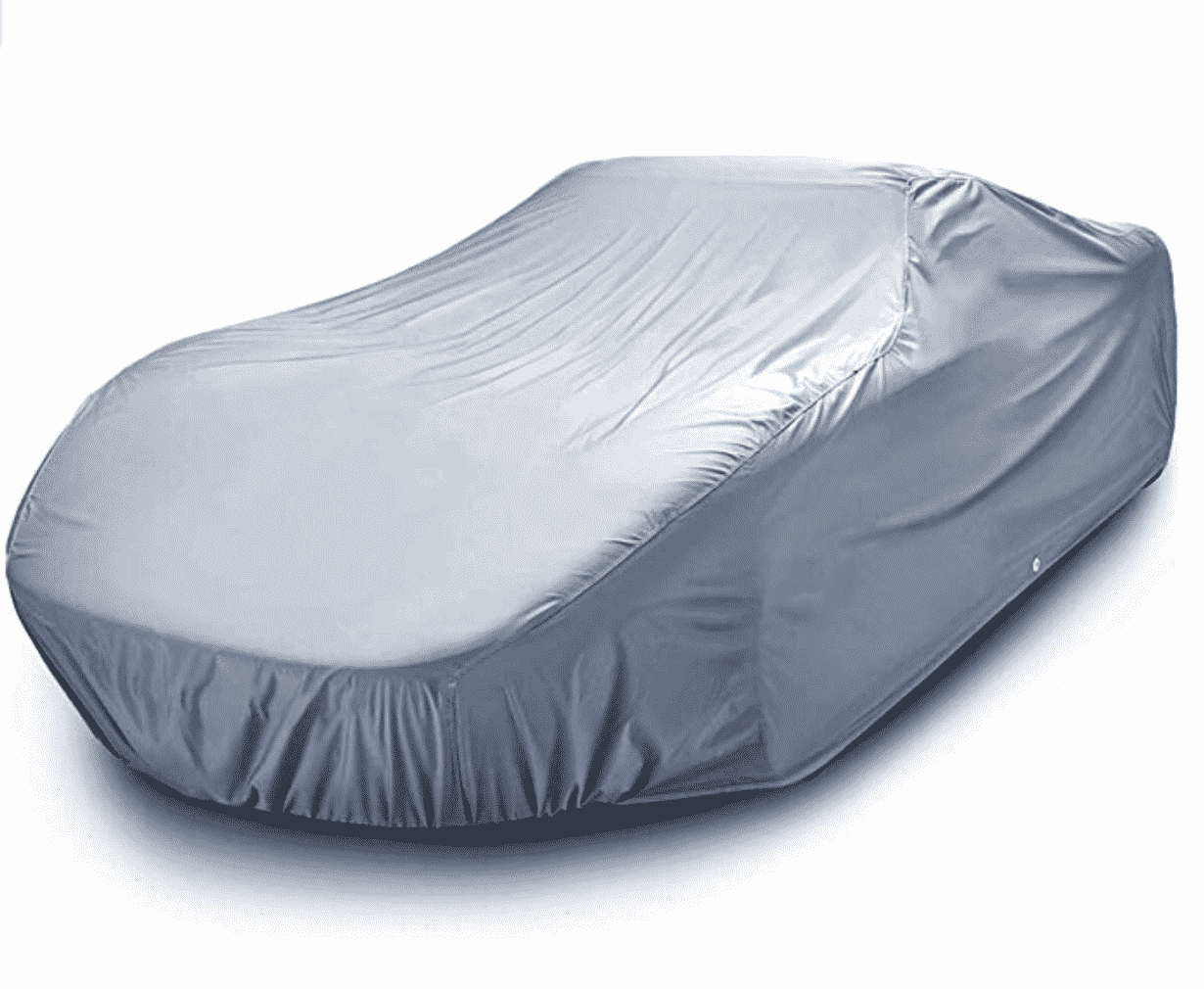 The iCarCover car cover is all-weather and can protect your car without limitations. High-quality material has been used in the manufacturing of this car cover to keep it durable and serve you for the long run. The interior has been well taken care of and to make sure no scratches on your car's paint when the cover comes in contact with your car. This hail car cover is chemical-free and it has been designed to keep your car cool regardless of the weather outside.
To make sure that the car cover is properly reinforced, you are provided with 3 straps that you can fasten to the buckles. The front and rear part of the car cover is made using elastic material to hold it in place. Its height is tall enough to even cover your tires thus keeping them clean.
Pros
It can cover down to your tires

High quality materials

It comes with fasteners

Keeps the car's interior cool

It can be used both indoors and outdoors
Cons
8. SEAZEN Car Cover
Using the highest form of craftsmanship, this car cover has been developed to offer complete safety for your car. It is all-weather, thus, when you need it during a hail storm, it will properly protect your vehicle. It is made using 6 different materials which help to strengthen the car cover. These materials include; 2 layers of aluminum, 2 layers of spun-laced cloth and 2 layers or PE materials. The purpose of the spun-laced cloth is to prevent scratches on your car.
To keep it attached to your car, you will find straps at the front and rear. Some mirror pockets are also incorporated and it is fitted with reflective strips to make your car visible at night. It measures 193 inches long , meaning it can fit most SUVs.
Pros
Reflective stripes for nighttime visibility

The car cover is all-weather

Straps for better security

Made with durable aluminum layers
Cons
Verdict
Keeping your car safe, as well as yourself, should be of the utmost importance. Insurance companies might not protect your car from weather damage, especially hail, because the cost of repairs may be less than your deductible. Some policies do not even offer such protection. A few hail storms can easily add up to over a thousand dollars worth of repairs. Therefore, putting this in mind, you should highly consider getting a hail car cover. With it, you can have peace of mind the next time you hear those dreaded hailstones bouncing off the ground!